Finnish Air Force Air Show Displays in 2019
Finnish Air Force aircraft will participate in various flying and static displays both in Finland and abroad in 2019.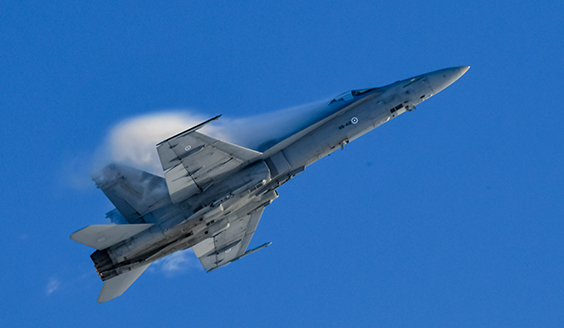 The aircraft of the service can be seen during the Base Open Days at the Air Force Academy, Satakunta Air Command and Lapland Air Command as well as in many other public events. Abroad Finnish Air Force aircraft will participate for example in the Royal International Air Tattoo (RIAT) and NATO days in Ostrava.
The events of the air show and flypast schedule given below may be subject to change. Updated and detailed event information can be found on the Finnish Air Force social media accounts on Facebook, Twitter and Instagram.
Finnish Air Force Air Show Displays and flypasts in Finland in 2019
26 April: National Veterans' Day, wreath-laying ceremony, Sankaripuisto park, Kuopio
27 April: National Veterans' Day
F/A-18 flypast over the three-country cairn
9 May: Base Open Day at Utti Jaeger Regiment
F/A-18 solo display
Midnight Hawks aerobatic team display
Static display including F/A-18, Hawk, CASA C-295M, and Pilatus PC-12 NG
14 May: Base Open Day at Satakunta Air Command, Pirkkala
F/A-18 solo display
Midnight Hawks aerobatic team
Hawk solo display
Vinka solo display
Demonstration flights by transport and liaison aircraft
Static display including F/A-18, Hawk, transport and liaison aircraft and helicopters of the Finnish Army
28 May: Base Open Day at Air Force Academy, Tikkakoski
F/A-18 solo display
Midnight Hawks aerobatic team display
Hawk solo display
Vinka solo display
Pilatus PC-12 NG demonstration flight
Static display including F/A-18
4 June: Finnish Defence Forces' Flag Day National Parade, Rovaniemi
F/A-18 solo display
Parade flypasts by F/A-18 and Hawk aircraft
7 June: Sun Pampas City Festival, Ylivieska
Midnight Hawks aerobatic team demonstration flight
12 June: Finnish Defence Forces' Summer Tour, Joensuu
Midnight Hawks aerobatic team demonstration flight
13 June: Finnish Defence Forces' Summer Tour, Kuopio
F/A-18 solo display
Midnight Hawks aerobatic team demonstration flight
15 June: Jukola Relay, Kangasala
F/A-18 demonstration flight
CASA C-295M flypast
Pilatus PC-12 NG flypast
15 and 16 June: Turku Airshow
F/A-18 solo display
Midnight Hawks aerobatic team
Hawk solo display
Vinka solo display
Static display including F/A-18, Hawk and Grob G 115E
15 June: Finnish Defence Forces' Summer Tour, Helsinki
Midnight Hawks demonstration flight
1 August: Neste Rally Finland 2018, Jyväskylä
Midnight Hawks demonstration flight (Opening Ceremony in Jyväskylä Harbour)
22 August: Base Open Day at Lapland Air Command, Rovaniemi
F/A-18 solo display
Midnight Hawks aerobatic team display
Hawk solo display
Vinka solo dipslay
Pilatus PC-12 NG demonstration flight
8 September: Flying Finn Race, PowerPark, Kauhava
Midnight Hawks aerobatic team
13 September: Kouvola Security Conference and Get to Know Your Military Event, Kouvola
F/A-18 demonstration flight
6 December: Finnish Independence Day National Parade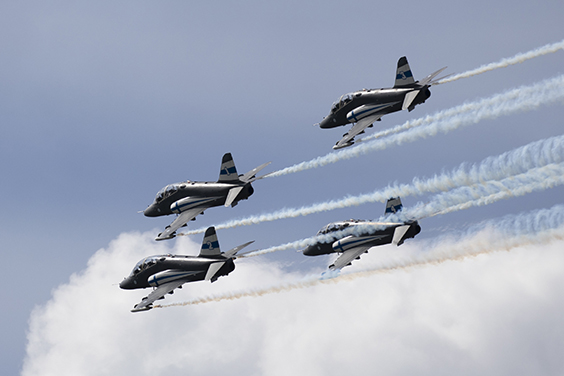 Finnish Air Force Air Show Displays Outside Finland in 2019
8 June: Latvia Air Force 100 Years, Lielvarde, Latvia
19 and 21 July: Royal International Air Tattoo, Fairford, United Kingdom
27 July: Falcon Wings Airshow, Lithuania
16 and 18 August: Roskilde Airshow, Denmark
Midnight Hawks aerobatic team
25 August: Försvarsmaktens flygdag, Ronneby, Sweden
21 and 22 September: NATO days in Ostrava, Czech Republic
Midnight Hawks aerobatic team display
Read more:
Hornet Display Pilot of 2019 Season Captain Arto Ukskoski
Midnight Hawks Continue Flying in New Composition

The Finnish Air Force on social media:
Facebook
Twitter
Instagram

Midnight Hawks on social media:
Instagram