Ilmataktiikka 20 is the largest live air exercise in the spring
All the units of the Finnish Air Force will participate in the Ilmataktiikka 20 live air exercise from 18 to 22 May 2020. The focus of the exercise will be on the training of Air Force key personnel in tactically challenging scenarios.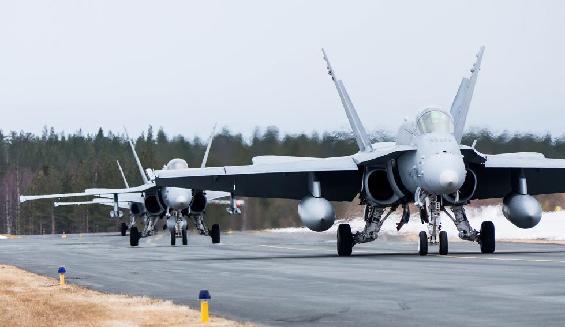 Ilmataktiikka 20 ("Air Tactics 20") will be the Finnish Air Force's largest live air exercise in the spring 2020. The exercise will feature approximately 28 F/A-18 Hornet multi-role fighters, 4‒6 Hawk jet trainers, two C-295M tactical transports and two PC-12NG liaison aircraft. The Finnish Navy will participate in the exercise with the minelayer Hämeenmaa and the fast attack craft Pori and Tornio operating in the Bothnian Bay.
‒ Ilmataktiikka 20 is an important exercise for the continuous development of Air Force tactics and air combat techniques. The main operating base of the defending unit will be Kuopio, while the adversary will operate mainly out of Rovaniemi Air Base. The objective of the exercise is to train air operations' key personnel in tactically challenging scenarios, says Exercise Director, Colonel Juha-Pekka Keränen.
In addition to the main operating bases in Kuopio and Rovaniemi, the bases in Oulu and Tampere will be used. The exercise missions will be flown in an area bordering on Oulu, Kajaani, Kuopio, Jyväskylä and Vaasa as well as over the Bothnian Bay. The flight operations of Ilmataktiikka 20 will begin on 18 May at 2 pm and end on 22 May no later than 2 pm. During the exercise, daily flight operations are scheduled to take place between 9 am and 7 pm each day.
The tactically challenging scenarios will include low-level flying and high-altitude supersonic flights, which may be heard on the ground as sonic booms. In addition, the aircraft partaking in the exercise will deploy countermeasures such as flares and chaff. Flares may be seen as bright spots of light in the sky, and chaff may cause false echoes on weather radar.
Ilmataktiikka 20 will involve mainly active-duty personnel. As a precaution against COVID-19, the troops will be divided into separate groups and contacts between the personnel will be limited.