The Finnish Air Force celebrates its 100th anniversary
To commemorate the centennial, FINAF's social media channels on Facebook and Twitter present landmark moments in the Service's history along the year.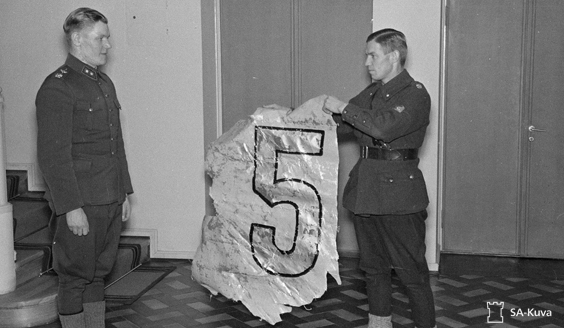 The historical series begins with the air combat world record achieved on 6 January 1940. With the Winter War raging on Epiphany 1940, the Soviet Air Force conducted bombing sorties against the Finnish towns of Lahti and Kuopio. Lieutenant Jorma Sarvanto, a Fokker D.21 fighter pilot, was among those scrambled from Utti Air Base in South-East Finland on a counter air mission against a detachment of seven Ilyushin DB-3 bomber aircraft targeting Kuopio. During an air combat that lasted just 4–5 minutes, Lt Sarvanto shot down six of those bombers. The combat ended when the Fokker ran out of machine gun rounds. However, the seventh bomber was claimed by other Finnish fighters in the vicinity of the island of Suursaari.
Lt Sarvanto's flying on that mission is considered a world-record air combat performance, and it garnered a lot of attention at the time both in Finland and elsewhere. In the photo, Second Lieutenant Sven-Erik Fagerholm hands Lieutenant Sarvanto a piece of rudder from one of the bombers shot down by the latter two days earlier on 6 January 1940.