Midnight Hawks
The Midnight Hawks is the official aerobatic team of the Finnish Air Force. The team with its four Hawk jet trainers has proudly presented the consummate flying skills of Finnish military pilots in air shows in Finland and abroad since 1997.
The display season 2021 looks to be well on track and the team is in high spirits – as always. Despite the prevailing situation, the team has been training a display routine with some slight updates this spring. The routine is divided roughly into two parts, the first of which showcases close formation flying. You can expect to see the Midnight Hawks' signature tight diamond as well as more formation changes than has been customary. Many varying vertical manoeuvres are also included in this season's routine which will make it more heart-pounding for spectators. The second part of the show features various manoeuvres involving breaking and forming up. Some are familiar from the previous season but the team has been polishing the entire sequence to make it even more breathtaking than before. In the routine the formation flies at its lowest a mere 100 metres above the ground with aircraft speed varying between 200-800 km/h.
All Midnight Hawks pilots are qualified air combat instructors at the Air Force Academy, rehearsing aerobatics on top of their teaching responsibilities. Formation aerobatics require gruelling training and commitment, yet being chosen as a member of the Midnight Hawks is an honour no one can turn down.
Midnight Hawks team for the 2021 Season
The Midnight Hawks team composition 2021 has undergone some yearly changes. The previous season's Team Leader Captain Vesa Loukko, Right Wing Captain Juho Tervahartiala and Slot Pilot Captain Oskari Tähtinen continue to fly on the display team. Captain Jussi Nokso, previously serving as Midnight Hawk 7, has taken over the left wing position.
The new members joining the Midnight Hawks team line-up are Major Teemu Mahlamäki as the supervisor and Captain Joonas Sunnari as No. 7. Mahlamäki's task is to provide on-the-ground support for the display routine and formations as well as ensure flight safety. Sunnari will, in the future, fly the right wing position. This year he will get to know the team's work and act as a display commentator, among other duties.
Flight operations of the Air Force, including the Midnight Hawks' aerobatic displays, would not be possible without the support and tireless efforts of the aircraft maintenance personnel. Midnight Hawk 10, Senior Engineering Officer, Captain Marko Nieminen is in charge of the maintenance and upkeep of the four display and one backup aircraft. A six-person crew selected from the personnel of the Aircraft Maintenance Squadron of the Fighter Squadron 41 assists him by carrying out the maintenance duties.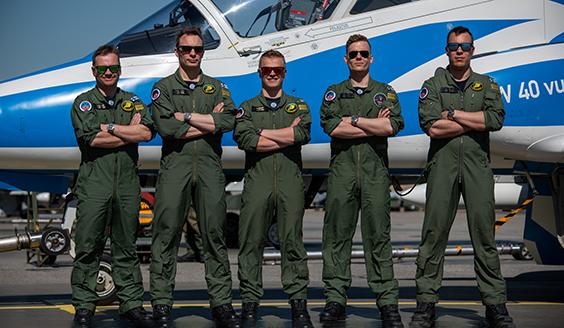 Team members
Captain Vesa Loukko - No. 1 Team Leader
Captain Vesa Loukko, Midnight Hawks Team Leader since 2019, hails from Kauhajoki. He began his military service in 2004 in Kauhava with what was then known as the Elementary Pilot Training Course. After conscription, he continued studying military sciences on Cadet Course 92 between 2005 and 2009. He started flight training with a Vinka primary trainer in Kauhava in January 2005. The Vinka training ended in Tikkakoski in 2008, after which his flight training continued in Kauhava with a Hawk jet trainer between the years 2008 and 2010.
When his training in Kauhava ended, Loukko transferred to Pirkkala to fly an F/A-18 in Fighter Squadron 21 in 2010-2013. The summer of 2013 saw him back at the controls of the Hawk at the Training Air Wing in Kauhava, and in 2015 he became stationed at the Air Force Academy in Tikkakoski. Today Vesa serves at the Air Force Academy as a flight commander and an air combat instructor. Loukko has accumulated over 500 flight hours with the Finnish Air Force Hornets, more than 1000 hours with the Hawk and 100+ with the Vinka, i.e. a total of around 2000 flight hours.
Vesa began his Midnight Hawks career in 2016 on the right wing. He flew three seasons as No. 3 between 2016 and 2018. In 2019 Vesa was honoured to have No. 1 marked on his helmet, and now he is starting the third season as Team Leader. All good things eventually come to an end, and thus, the 2021 season will be the last one for him in the flying team.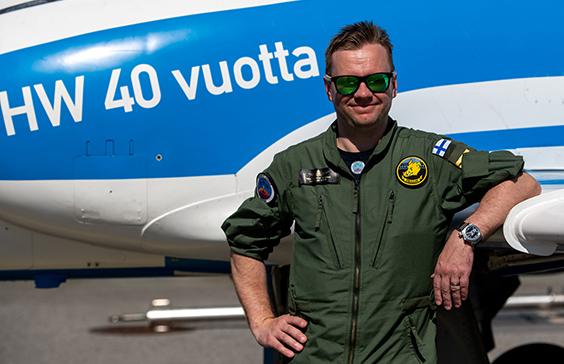 Captain Jussi Nokso - No. 2 Left Wing
Flying on the left wing, Captain Jussi Nokso comes from Kurikka, South Ostrobothnia. As a farmer's son, he went all out to follow the path set by pioneer pilots to land a career as an Air Force officer. In 2005 after his upper secondary school graduation, Jussi headed to Tikkakoski and Pilot Reserve Officer Course 80. Having completed conscription, Nokso began studying at the National Defence University's Cadet Course 93, from where he graduated in 2015 with a Master of Military Sciences majoring in war technology.
For a couple of years during the Cadet School Jussi's flying career continued in Tikkakoski with the Vinka, and later he was stationed at the Training Air Wing in Kauhava to learn the secrets of operating a jet. In Kauhava Nokso was awarded the Finnish Air Force pilot wings in the year 2009. Following this, his training continued with studying tactics in Kauhava for two more years until he took up F/A-18 training at Fighter Squadron 11 in Rovaniemi. Jussi served in the squadron until the year 2016 when he transferred to the Air Force Academy Fighter Squadron 41 to an air combat instructor's post.
Captain Nokso has recorded more than 1400 hours of flight time with military aircraft over the years. Some 500 hours of these have been at the controls of the Hornet and his Hawk experience tops 700 hours. In his spare time Jussi does various sports from cycling and going to the gym to different board sports. His further interests include information technology and handicrafts.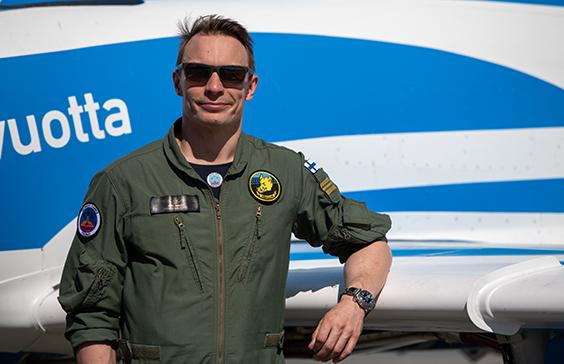 Captain Juho Tervahartiala - No. 3 Right Wing
Captain Juho "Tervis" Tervahartiala is the Midnight Hawks' youngest as well as the sole "foreign" reinforcement - born and bred in Raisio and a 2007 graduate of the Raisio Upper Secondary School, speaking the native Turku dialect and Finnish as a "second language". His ambition to serve his country led him from the Navy Reserve Officer Course to Pilot Reserve Officer Course 83. Serving 544 days as a conscript impacted Tervahartiala's character deeply, making him the airman he is today. As a natural extension of all of the above, Tervahartiala began to study at the Cadet School in 2009.
Tervahartiala completed his elementary and basic flight training with the Vinka primary trainer in Tikkakoski and then moved on to further flight training with the Hawk at the Kauhava Training Air Wing in 2011. He earned his military pilot wings in 2012 and flew the Hawk for two more years prior to taking the flight instructor course in 2014. When the Kauhava Training Air Wing closed down, the Hawks and flight instructors were redeployed to Tikkakoski, and thus student pilots have had the opportunity to enjoy Tervahartiala's professionalism with both the Hawk and Vinka since 2015.
Tervahartiala joined the Midnight Hawks as No. 7 for the season 2016. Having many years of experience under his belt, Tervahartiala has delighted the crowds with his expert commentary of the display routines, including Finland's as well as the Finnish Air Force's centenary air shows. This season will see Tervahartiala flying the right wing No. 3 position. Tervahartiala is passionate about flight instruction, and he has thus far racked up 1000 flight hours with the Hawk and some 400 with the Vinka.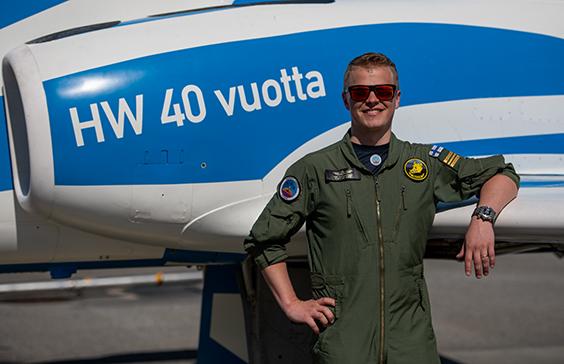 Captain Oskari Tähtinen - No. 4 Slot Position
Captain Oskari Tähtinen is a native of Jyväskylä and a 2006 graduate of the Jyväskylän Lyseo Upper Secondary School. His Air Force career began the same year with conscription in Tikkakoski on Pilot Reserve Officer Course 81. After conscription, Tähtinen started studying at the National Defence University's Cadet Course 94, graduating in 2016 with a Master of Military Sciences majoring in war technology.
On completion of elementary and basic flight training, Tähtinen's flying career continued with Hawk jet trainers at the Kauhava Training Air Wing, and he was awarded his military pilot wings in the summer of 2010. In 2012 Oskari finished tactical training with the Hawk and was positioned north to the Lapland Air Command's Fighter Squadron 11. There he flew the F/A-18 Hornet multirole fighter for six years until in summer 2018 he transferred to the Air Force Academy Fighter Squadron 41. Currently Tähtinen is a deputy flight commander and an air combat instructor.
Tähtinen joined the Midnight Hawks for the 2019 season in the role of No.7. In 2020 he took up the slot position on the display team. Tähtinen has over 1300 total hours of flying experience with military aircraft, of which more than 500 hours with the Hornet. He has also accumulated flight hours in civil aviation, flying 400 hours with single and twin-engine aircraft as well as gliders. Besides flying, Tähtinen enjoys various sports, scuba diving and photography.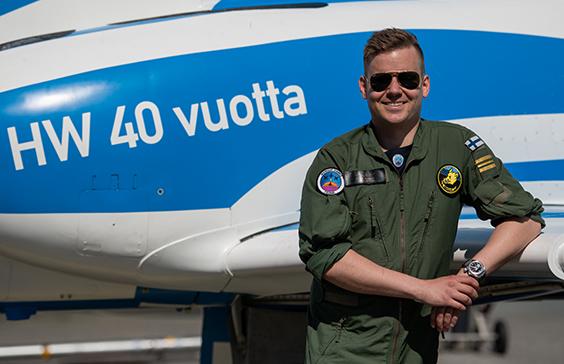 Captain Joonas Sunnari - No. 7 Commentator / Rookie
The new demonstration pilot spends the first season in position No. 7 to get to know how the team works and gear himself up for formation flying. No. 7 does not yet fly in displays but he can be heard providing commentary to the display routines through the loudspeakers during air shows as this is one of his duties.
Captain Joonas Sunnari comes from Keminmaa which means he is a native of Lapland. His passion to take to the skies at the controls of a fighter aircraft has been very strong since childhood. This is why he, a man from Lapland, applied for Pilot Reserve Officer Course 82 straight after graduation from the Keminmaa Upper Secondary School in 2007. On completion of his conscription, Sunnari continued on Cadet Course 95 in 2008 and graduated as an officer in 2011. In 2013 he was trained in the basics of air combat tactics and techniques with the Hawk in Kauhava, and then his career path took him to fly the Hornet at Fighter Squadron 11 in Rovaniemi. In 2019, after six years of service in Lapland, it was time to move on and start the duties of an air combat instructor with the Hawk at Fighter Squadron 41.
Sunnari has so far around 1000 flight hours of experience with jet aircraft. The best thing about flying is that you can challenge yourself over and over again and the speed that you cannot experience anywhere else, Sunnari states. In his free time, Sunnari can be found on skis on a hill or skiing trail in winter and on a mountain bike in summer.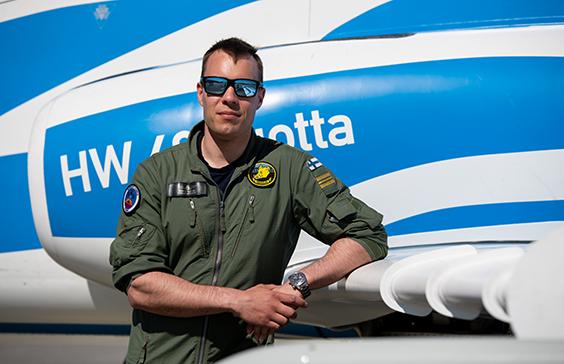 Major Teemu Mahlamäki - No. 0 Supervisor
The supervisor is an experienced Midnight Hawks pilot whose main tasks are to ensure flight safety and develop new display routines. When the display is in full swing, No. 0 can be spotted near the airfield perimeter, talking into a radio transmitter giving instructions to the team leader.
No. 0, Team Supervisor, Major Teemu Mahlamäki is from Kolho. Contrary to the usual practice, he has not flown official displays on the Midnight Hawks. However, as a stunt double, Teemu may hold the Finnish record in the number of fly-pasts conducted in various parade formations. Major Mahlamäki made his maiden flight with a Hawk already in the last millennium and now continues flying in the fourth consecutive decade. As he has said, thanks to his experience of over 3400 flight hours he could take any position in a formation, if needed. His mere presence builds up constant pressure on the future rookies which creates competition for a place on the Midnight Hawks team.
Mahlamäki has been in the role of a Hawk flight instructor since 2004. In his flight instructor career, he has trained not only the Midnight Hawks members but also future prospective formation pilots for other aerobatic teams, such as the Italian Frecce Tricolori and Canadian Snowbirds. This took place when he was assigned to Canada as an instructor pilot from 2010 to 2014. With the Midnight Hawks he has been involved in many support tasks since 2015.
The Midnight Hawks supervisor provides support to the team leader in decision-making and the team members in keeping the formation flawless and maintaining separation between the aircraft. All this makes the supervisor the team's "artistic director", who gives his own contribution to what the show looks like from the ground as the pilots are unable to see it in live action.
Mahlamäki graduated from the Haapamäki Upper Secondary School in 1996. In the autumn of the same year he started his military service on Pilot Reserve Officer Course 71, and after that he continued on the Air Force Cadet Course 84. He was first posted to the Lapland Air Command, Rovaniemi, to serve as an F/A-18 Hornet pilot. In 2005 he transferred to Kauhava to take up the duties of a flight instructor and the Chief of Tactics Office as well as later the Commander of the 3rd Flight in charge of instructor training. From Kauhava Mahlamäki moved to the Cold Lake base in Canada (NFTC) where he served as a flight instructor and flight commander responsible for flight operations management. In 2016 - 2019, Major Mahlamäki was a Hawk specialist in his service's headquarters, Air Force Command, and involved also in the Fighter Squadron 41's flight operations in the role of an air combat instructor and officer in charge of conversion training. In the autumn of 2019, Teemu returned to active squadron service to the post of a squadron officer of Fighter Squadron 41 in Tikkakoski.
In his youth, Mahlamäki played volleyball and floorball on a competitive level. Since those years, his free time has been filled with ice hockey as a hobby and common interests and hobbies with his family.
Captain Marko Nieminen - No. 10 Senior Engineering Officer
The team's senior engineering officer, in other words No. 10, is Captain Marko Nieminen from Laukaa, Central Finland. After the upper secondary school, Nieminen left for Halli, Jämsä, to do his military service on the Aircraft Maintenance Non-Commissioned Officer Course, where he was duly bitten by the military aviation bug, and began his Aircraft Maintenance Basic Course in Lappeenranta immediately on completion of his conscription.
He was stationed to the Karelia Air Command in 1998 after graduating from the Aircraft Maintenance Basic Course. His work with the Hawk fleet got started already then, but in 2007 he swapped the fighters to transport and liaison aircraft in the Supporting Air Operations Squadron housed at the time at the Air Force Academy in Tikkakoski. His next reassignment took place in connection with the Defence Forces Reform in 2015 when the Supporting Air Operations Squadron was relocated to the Satakunta Air Command. He worked in Pirkkala only for a short while as he was transferred back to Tikkakoski in the spring of 2017 to his current duties as Hawk Specialist of the Aircraft Maintenance Squadron, Fighter Squadron 41, at the Air Force Academy in Tikkakoski. The specialist's work involves maintenance planning for the Hawk fleet and their continuous airworthiness management, among other duties.
In the years 2018-2019 Nieminen was in charge of the Midnight Hawks display team's aircraft systems and he now serves his second year as the senior engineering officer, or No. 10. Although his career in the Midnight Hawks has only just begun, Nieminen has already had over 20 years of Air Force experience with several different aircraft types - Hornet, Pilatus, C-295M and Vinka, for example. In addition to his Hawk specialist duties, Nieminen also serves as the Pilatus PC 12 specialist for the Air Force.
In his free time, he keeps busy with his own farm in Hankasalmi, farming the land and taking care of the woods. His winter hobbies include cross-country and downhill skiing as well as snowmobiling, and in spring and summer whenever his farm work allows, Nieminen puts his running shoes on.