Readiness sustained while troops change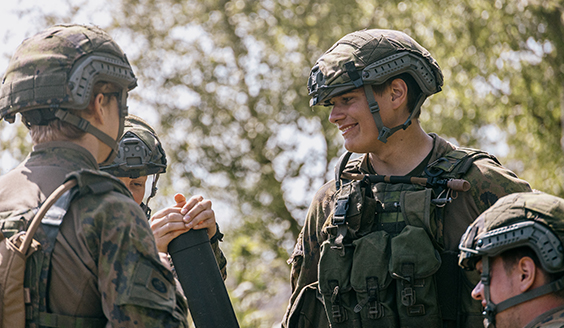 Altogether nearly up to 8,600 conscripts from the brigade level units of the Finnish Defence Forces and Border Guard will muster out into the reserve on Thursday 16 June 2022. In the Finnish Defence Forces, readiness for the set main task, i.e. military national defence of Finland, will be sustained in all situations.
In total, 6,997 conscripts from the Army, 832 from the Navy, 480 from the Air Force, and 263 from the Border Guard will muster out having served for 347 or 165 days depending on their given training. Conscripts with a higher number of in-service days are qualified, for instance, for leadership or readiness unit tasks, whereas conscripts with a shorter time in service have developed skills for rank and file tasks.
Altogether 8,572 conscripts from the Finnish Defence Forces and Border Guard, 485 of whom are females, will muster out into the reserve. Over the years, the number of women mustering out has been on the increase, and this summer sets a record. If the trend continues, it is possible that the total number of trained women per year will exceed a thousand personnel for the first time in 2022.
Colonel Kari Pietiläinen, ACOS Training from the Defence Command, thanks all conscripts for the conscript service part of their liability for military service.
– At this point, your conscript service phase is about to be finished. You can all be truly proud of yourself. During your service, you have all done your share for the responsibility for sustained military national defence readiness. Over the coming years, keep up and make use of the added value that you have gained while completing the service – such as joint team spirit, operating capability in exceptional circumstances, positive attitude towards doing sports, good relations with mates, and your specific skills and competence.
Training and practical exercising provide a good basis for operating as part of wartime forces.
– This mission continues in the reserve as part of liability for military service. Also, in the reserve you have several opportunities to develop your soldier's skills. These include the training opportunities offered by the National Defence Association as well as by reservist and national defence organisations or by service in crisis management units. You are also qualified to apply for vacancies in the Finnish Defence Forces or embark on a military career. I wish you all the best of luck and success in the reserve!
Readiness sustained
The objective of conscript service is to train capable and competent soldiers with the will to defend to be assigned to assume positions in Finnish Defence Forces' exceptional circumstance tasks. Persons liable for military service undertaking conscript service are for their part sustaining the Finnish Defence Forces' continuous readiness to respond rapidly to changes in the security environment when necessary.
The Finnish Defence Forces sustains a continuous readiness for monitoring and securing territorial integrity. The Finnish Defence Forces' composition includes readiness units comprising service personnel and conscripts of the January contingent, readiness detachments of service personnel, as well as conscript companies set for inter-agency cooperation detachment missions ready to provide support to other authorities relating to tasks of inter-executive assistance.
On 4 July, the next conscript contingent will start their service at garrisons across Finland.