Air combat training with the French Air Force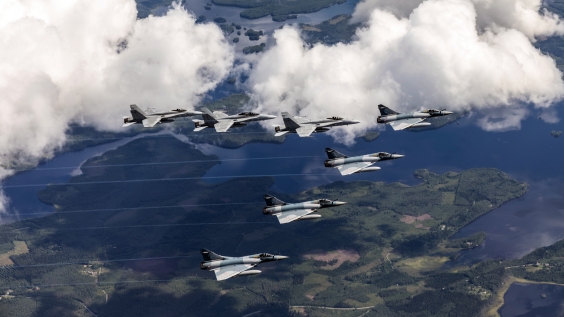 International cooperation enhances Finland's defence capability and is a part of the daily activities of the Air Force.
On 15 July 2020, the Finnish Air Force conducted air combat training with the French Air Force Mirage 2000-5F detachment deployed to Ämari Air Base, Estonia. Four Finnish F/A-18 Hornet multi-role fighters and four French Mirages took part in the training mission, which was flown in Finland west and northwest of Kuopio.
Known as the Finnish Swedish Training Events (FSTE), the air combat training missions are an established form of cooperation between the Finnish Air Force, the Swedish Air Force, and the NATO Baltic Air Policing detachments. The concept of the FSTE missions, flown since 2015, is similar to the Cross Border Training (CBT) cooperation between the Finnish, Swedish and Norwegian Air Forces in the North. FSTE missions are flown on a monthly basis. Typically, the Finnish Air Force participates with 2‒8 F/A-18s or 2‒4 Hawk jet trainers.
‒ The main objctive of the FSTE missions is to train our F/A-18 pilots in air combat scenarios with different types of aircraft. Planning and executing the missions provides both our pilots and fighter controllers with valuable experience in international cooperation. We fly the FSTE missions as a part of our daily flight operations, so we get the training benefits without extra costs, says Lieutenant Colonel Inka Niskanen, Commander of Fighter Squadron 31, Karelia Air Command.
Flown in Finnish, Swedish, and international airspace, the FSTE missions are a part of the Finnish Defence Forces' international training and exercise plan 2020, approved by the Ministry of Defence. The previous time the Finnish Air Force trained with the French Mirage 2000-5F detachment was on 6 May.