AIR POWER CONFERENCE 2018
The theme of the conference is Situational Awareness in Future Air Warfare. The conference will take place at the Finnish National Defence University on Santahamina Island in Helsinki from 30 October to 1 November 2018. The event is hosted by Commander of the Finnish Air Force, Major General Sampo Eskelinen.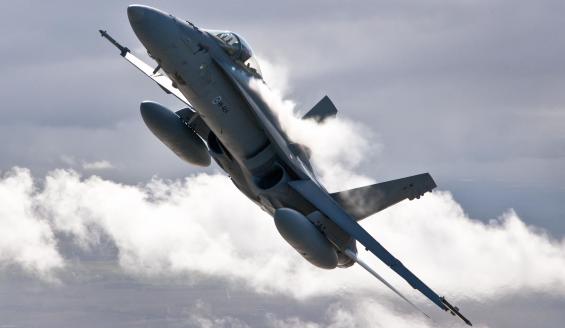 In the conference we will discuss and explore different elements of situational understanding. We will look into the strategic and operational level solutions and ambitions concerning air power. We hope that with this conference the participants can build their understanding of the ideas behind the way we plan multi-domain operations in the future. System integration, human interface and cognitive solutions are some of the key elements for preparing our airmen for the future battle field. Our lecturers are recognised experts from Finland and abroad who will open before us a picture of the challenges and opportunities for the future mission of air power.
The conference audience will mainly include Air Force Cadets and students of the General Staff Officer Course. All Finnish Defence Forces members who find the topic interesting are also welcome at the event. Please inform of your participation in the conference to POC Major Matti Pulli by email ([email protected]). If any questions arise, contact the conference POC.
The conference is held over three days. The agenda for Tuesday and Wednesday is attached below. We reserve the right to make minor changes to it. The programme for Thursday will be published later.
If you are one of our international guests, you might want to know more about our beautiful capital city, Helsinki. Please visit www.visitfinland.com/helsinki/ and www.myhelsinki.fi/en for more detailed information about the vibrant city, its surroundings and its large variety of different activities.
If you as a visiting lecturer or international guest need transportations to the airport (or other destination) during the conference, pleace contact conference POC.
Transport from AFA to FNDU (30.10.2018): Aquila, Tikkakoski 6.00 am, Matkakeskus, Jyväskylä 06.20 am.
Tuesday 30 October, Auditoriotalo
"Future Air Warfare and Situational Understanding"
8:15
Transport from accommodation to FNDU
9:00-10:00
Registration and coffee
Get your pass from the info desk
10:00-10:50
Maj Gen Sampo Eskelinen, FINAF
"Opening and introduction to the theme"
11:00-11:50
Dr. Robert Dalsjö, Swedish Defence Research Agency
"Baltic security environment"
12:00-13:00
Lunch
13:00-13:50
Justin Bronk, RUSI
"Russian air force situational awareness and fighter/C2" integration"
14:00-14:50
Mr. Mark Gunzinger, CSBA
"The future of air warfare"
14:50-15:20
Coffee
15:20-16:10

Mr. Reino Virrankoski, Aalto University


"Situational awareness through Combat Cloud in Future Air Warfare"
16:20-17:00
Panel Discussion
17:10
Transportation to accommodation and back (dep est. 18:30)
19:00
Cocktail event at the FNDU
Wednesday 31 October, Auditoriotalo
"Effects of the future technology on situational understanding"
08:15
Transport to the FNDU
09:00-09:15
Day 1 wrap-up and introduction to day 2
09:15-10:00
Dr. Lauri Oksama
"Cognitive view on situational awareness"
10:00-10:30
Coffee
10:30-11:20
Lt Col Carlos Presa, Spanish Air Force
"Air warfare communication in a networked environment"
11:30-12:20
Mr. Andrea Barisani, F-Secure
"Cyber warfare and air operations"
12:30-13:40
Lunch

13:40-14:30

Panel discussion

14:35-15:25
Dr. Martti Lehto, Jyväskylä University
"Artificial intelligence in future air operations"
15:25-15:35
Wednesday closing remarks
15:35-16:00
Coffee
16:05
Transportation to accommodation
Thursday 1 st November, Auditoriotalo
"Effects of the future technology on situational understanding"
7:45

Transport to the FNDU

8:30-8:40
Introduction to day 3 by Maj Gen Sampo Eskelinen, FINAF
8:40-9:25
Prof. Raimo P. Hämäläinen, Aalto University
"System Intelligence"

9:30-10:20

Prof., Rector Jari Multisilta, SAMK
"What research can inform us on Live, Virtual and Constructive training"

10:20-10:40

Coffee

10:40-11:30
RAF representative
"Space & Cyber"
11:35-12.25

RNLAF representative
"C5, ISR, 5th Gen, the RNLAF perspective"

12:30-13:20
Lunch
13:20-14:10
USAFE representative
"CJFACC in a multidomain environment"
14:10-14:30
Coffee
14:30-15:30
Panel discussion
15:30-16:00
Maj Gen Sampo Eskelinen, FINAF
Conclusions and closing remarks
16:15
Farewell and transport to AFA (Tikkakoski)/airport