Royal Air Force F-35s to visit Karelia Air Command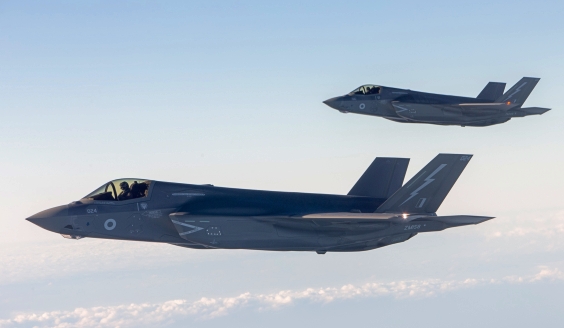 Karelia Air Command will host a visit of Royal Air Force F-35B Lightning II fighters at Rissala Air Base on 28‒30 June 2022.
The Royal Air Force detachment deploying to Finland will consist of two F-35B Lightning II fighters and around 60 personnel. The visit will be part of the UK-led Joint Expeditionary Force (JEF) cooperation. Finland joined the JEF in 2017.
‒ The aim of the visit hosted by Karelia Air Command is to enhance the interoperability of the Finnish Air Force and the Royal Air Force, and to strengthen the JEF cooperation in the air domain. During the visit, our F/A-18s will train together with British F-35s in the air, and we will gain experience in hosting F-35s at Rissala Air Base, says Lieutenant Colonel Tomi Böhm, Chief of Staff, Karelia Air Command.
The F-35s operating out of Rissala Air Base will participate in the Finnish Air Force's daily flight training activity together with Karelia Air Command's F/A-18 Hornets. The air operations will be carried out in the training areas located in the vicinity of Rissala Air Base on 28‒30 June 2022.
The visit of the F-35B Lightning II fighters is part of the Finnish Defence Forces' complementary training and exercise activity with international partners, approved by the Minister of Defence Antti Kaikkonen on 27 May 2022. The objective of the cooperation is to strengthen Finland's defence capability and to demonstrate partner nations' support to Finland.
More information: Karelia Air Command Chief of Staff, Lieutenant Colonel Tomi Böhm, tel. +358 299 800 (switchboard).