Finnish Air Force to fly training missions with Swedish and NATO air forces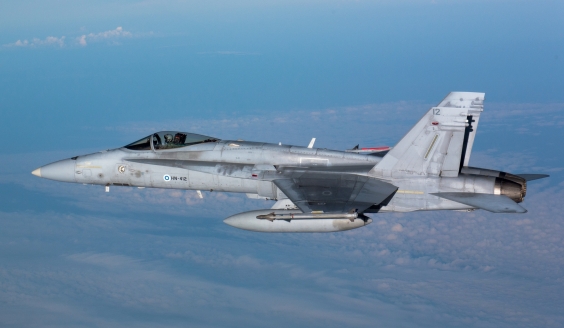 Finnish F/A-18 Hornets will train together with Swedish JAS 39 Gripens, French Rafales, Polish F-16s, and a U.S. KC-46A Pegasus air-to-air refueling tanker on 7‒8 December 2022.
The training missions will involve a total of around 20 aircraft from Finland, Sweden, France, Poland and the United States. The air activity will take place in Finland's, Sweden's and the Baltic countries' airspace, as well as in the international airspace over the Baltic Sea.
The Finnish Air Force will participate in the training missions with eight F/A-18 Hornet multi-role fighters. The F/A-18s will operate out of their home bases as part of the Finnish Air Force's daily air activity. During the training missions, the Finnish F/A-18s will refuel for the first time from a KC-46A Pegasus, the newest aircraft type in the United States Air Force air-to-air refueling tanker fleet.
The Finnish Air Force trains regularly together with both the Swedish Air Force and the NATO Baltic Air Policing detachments.