Finnish Air Force to host Arctic Fighter Meet 21 at Rovaniemi Air Base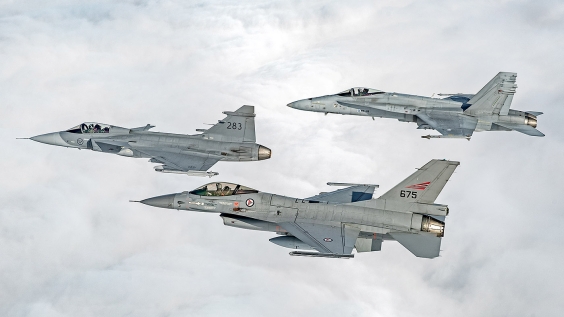 The Finnish Air Force will organise the Arctic Fighter Meet 21 (AFM 21) live air exercise at Rovaniemi Air Base on 30 August–3 September 2021. The exercise will involve fighters from the Finnish, Swedish and Norwegian Air Forces.
Lapland Air Command will host the AFM 21 exercise at Rovaniemi Air Base. The Finnish Air Force will take part in the exercise with F/A-18 Hornet multi-role fighters and Hawk jet trainers. The Royal Norwegian Air Force will participate with F-16 Fighting Falcons and the Swedish Air Force with JAS 39 Gripen C/D fighters.
The flight operations of the exercise will take place in Finnish airspace in the training areas used by Lapland Air Command from Monday 30 August to Friday 3 September between 8 am and 5 pm. During the exercise, the fighters will deploy flares, which may be seen as momentary bright spots of light in the sky.
The objective of the annual Arctic Fighter Meet exercises is to fly air combat training with different types of fighters, and to familiarise the youngest fighter pilots with international exercises. The exercises are part of the Nordic defence cooperation (NORDEFCO). Finland, Sweden and Norway take turns in hosting the Arctic Fighter Meet; the previous time the exercise took place at Rovaniemi Air Base was in 2018.