Air defence equals a joint mission of the Finnish Air Force, Army and Navy
As part of the Finnish Defence Forces' Uusimaa 17 exercise in November-December 2017, the skills to be honed include coordinated streamlining of the Air Force, Army and Navy activity on the ground, at sea and in the air. The type of inter-service and inter-branch cooperation implemented is exemplified in the operating of the Finland's air defence units when tasked with providing protection from and countermeasures for airborne offensives.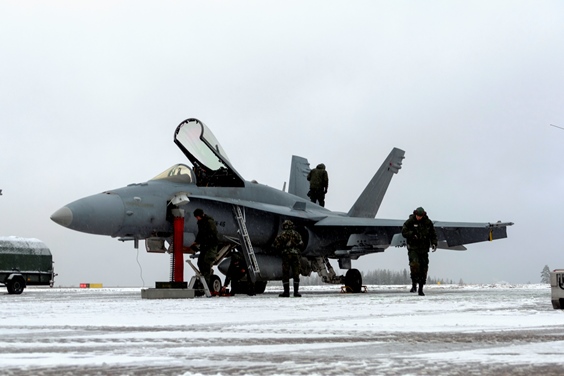 The coordinated use of the capabilities of multi-role fighters and air defence units forms the backbone of Finland's air defense A Finnish Air Force F/A-18C Multi-Role Fighter is prepared for a mission at Halli Air Base during the Uusimaa 17 exercise in late November 2017. Photo: Airman Nordling / Finnish Air Force
Simply put, air defence comprises troops, weapons systems and functions that all cater for safeguarding Finland's overall society and the Finnish Defence Forces' troops in case of airborne offensives. More specifically, the capabilities sustained by means of air defence include the following: the fighter aircraft that repel an aggressor's air-to-ground weapons load and covering fighters as well as the specific air defence units positioned either on the ground or onboard navy vessels that strike on an airborne aggressor by employing missile and artillery weapons systems.
By the same token, air defence units may also be categorised service-specifically to denote the respective capabilities, namely, air, ground or maritime component capabilities that independently sustain counter measures against airborne threats.
According to the Finnish Air Force Assistant Chief of Staff (ACOS) Operations, Lieutenant Colonel Tommi Heikkala, it is the duty of all the Finnish Defence Forces' units to account for the threats imposed from the air. However, unlike at times may be assumed, the service-specific categorization of actors responsible for air defence is less drastically demarcated than might be expected.
– Since the Second World War, Finland's air defence has operated under centralised joint command, which conforms to internationally established and well-functioning procedures. As regards the utilisation of support fires of the F/A-18 C/D Hornet multirole fighters and other Finnish Air Force aircraft as well as all the three services' air defence units, the operating is centrally led, based on the common situation picture.

Common situation picture enables joint leading
In both normal and emergency conditions, it is the responsibility of the Finnish Air Force to issue the orders tasking the implementation of air defence for fighter units as well as air defence units.
This decision-making procedure is informed by an air picture, comprising the observations deduced by air surveillance radars and a range of other sensors monitoring air traffic in Finland and its vicinity.
The air defence battle space, the nation's airspace, is shared by both aircraft and air defence systems, which in turn guarantees that all the actors are informed by identical situation awareness that then forms the basis for decision-making throughout the chain of command.
Distributed via lines of communication in the form of data, the real-time air picture reaches the air defence command posts, multirole fighters' cockpits and forward observation systems of air defence battalions' echelons. Similarly, this real-time air picture may be supplemented by the sensor equipment, for instance radars, of the units engaged in combat.
The utilisation of a common situation picture allows for assigning set areas of responsibility for both air defence and fighter interception and thereby frees up limited repelling power for most optimal allocation of resources.
As pointed out by Lieutenant Colonel Heikkala, this further strengthens and sustains the flexible capability of air defence in responding to threats in versatile settings.
– The more versatile a repelling capability an aggressor faces the more challenging and costly it becomes to try and override this capability. This is why close inter-service cooperating in peacetime covers also the development and procurement cycle of fighter interception and air defence.

The air defence of Finland is led by the Finnish Air Force. A common air picture is shared among both multi-role fighters and other air defense units. A NASAMS II FIN Surface-to-Air missile system is seen here deployed to protect the Helsinki metropolitan area in late November during Uusimaa 17 exercise. Photo: Ville Multanen / Combat Camera Finland

Fast and versatile – or sustained and multilayered?
Since threats and their corresponding counter capabilities continue to remain versatile, contemporary air defence needs to draw from more just than aircraft or ground-based air defence per se. So far, over the century-long history of air warfare, a number of countries have pondered whether or not to establish an air defence system that would rely on either effective air defence weapons systems or fighter aircraft. Yet, in such a system, the restrictions concerning its capabilities are bound to result in additional risk elements.
– As concerns combined multirole fighters and air defence units, the ensuing strengths complement each other and thereby neither one becomes self-sufficient regarding the overall capability of air defence, Lieutenant Colonel Heikkala explains.
– For instance, fighter interception is capable of reacting fast to a rapidly developing threat situation in all of Finland. Correspondingly, sustaining an equivalent capability in all locations by means of ground based air defence relying on vehicles or mobile platforms is neither feasible nor applicable.
In addition, the benefits accrued with multirole fighters literally translate into multirole capabilities.
Apart from conducting defensive air activity, a multirole fighter is capable of targeting and impacting the adversary and its troops with long-range air-to-ground precision weaponry.
The benefits of both the Hornet fleet as well as its successor to-be, the state-of-the-art multirole fighter being procured as part of the 2025-30 HX program, include advanced sensor systems that enable producing battlespace situation picture equally from the ground, at sea and in the air for the utilisation of the whole defence system.
The strengths of ground based air defence rely on its ability to protect targets long-term unlike in the case of the fighters sustaining a limited-only operation time due to restrictions set by fuel capacity, Heikkala says.
– Once ground based air defence is in its firing position, it may continue operating. In order for a multirole fighter to accomplish the same, it would have to remain in the air and wait for the threat to surface, or alternatively, its base would have to be located close to the protected target.
– Moreover, air defence may sustain a multilayered repelling capability. This means that if air defence weapons systems with range-coverage over varying horizontal and vertical ranges are deployed in the same area, it becomes possible to repel versatile targets.
Familiarity with the missile threat for decades by now
The threat environment that is typical of air defence is characterised by rapid development that witnesses technological innovations transforming the battlespace while still requiring preparing for traditional threat scenarios as well.
In the early years of the cold war, air warfare was being transformed by the emergence of supersonic jets and long-range missile weapon systems making the type of aircraft with their reciprocating engines outdated with the guns, machineguns and bombing equipment that by then had dominated the battlefield until the end of the Second World War.
Parallel to this development, the first versions of long-range missile defence systems were introduced into service and this development is still in-progress. The cold war era also witnessed the development of unmanned aerial vehicles as well as precision-guided missiles, on ballistic or direct trajectories, launched to surface targets acquired from varying platforms. Alongside with earlier weapons systems, all these still continue to pose an increasing threat on the air defence of a contemporary battlespace as well.
According to Lieutenant Colonel Heikkala, as regards the operational environment of Finnish air defence, the threat imposed by long-term and surface target missiles has been accounted for in defence planning for a number of decades by now.
– Finnish air defence has been prepared to operate in a situation that prevails within the range of extremely capable air defence missiles. However, it pays off to keep in mind that, once operating at the limits of the range, the effectiveness of these systems fails to fully deliver. This capability may be supported by means of electronic warfare and stealth technology, among others.
Furthermore, providing protection from artillery missiles and other ground target weapons is familiar to us.
– The methods include dispersing troops and actively modifying their formation. The Finnish Air Force does this, for instance, when deploying its aircraft in battle bases around the country in a crisis situation. Similarly, contemporary air defence systems sustain the capability to repel the threat posed by ballistic weapons, but these alone cannot be counted on when repelling a threat. Rather, repulsion requires a very early warning, the obtaining of which is somewhat challenging even for countries with major power status. Furthermore, it is impossible to have a high enough number of firing units to cover all the protected targets in the country.
– As concerns both novel and more conventional threats, it pays off to view air defence as an entity. The foundation for decision-making rests on common, up-to-date situation picture. Apart from this, there needs to be sustained versatility in order to allow for walking the talk and responding to rapidly developing situations with credibility.