F/A-18 Hornet flypast to honour the funeral of Captain Johannes Brotherus
The funeral of World War II fighter pilot Captain Johannes Brotherus will take place at the New Chapel of the Hietaniemi Cemetery in Helsinki on Tuesday 3 December. The Finnish Air Force will honour the event with an F/A-18 Hornet flypast.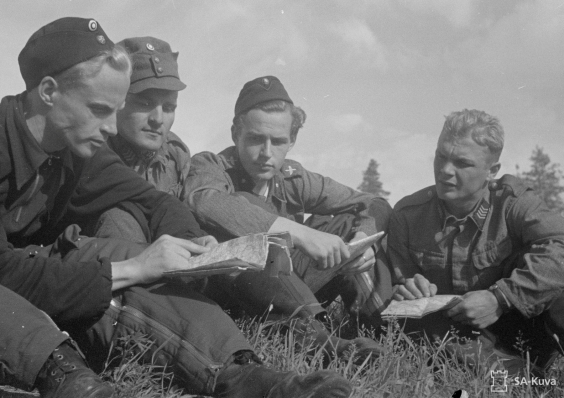 Pilots of Fighter Squadron 24 at Lappeenranta Air Base in June 1944. 2nd Lieutenant Johannes Brotherus is the second man from right in the picture. Photo: SA-kuva.
A volunteer in the Winter War, Brotherus attended the Air Force Officer Course 13 from 1941 to 1943. After completing the course, he served as a fighter pilot in the Fighter Squadron 24 from December 1943 to July 1944 flying the Brewster B-239 and Messerschmitt Bf 109 G-2 fighters. Brotherus scored two confirmed aerial victories above the Karelian Isthmus in 1944. He was reportedly the first Finnish pilot to shoot down a Bell P-39 Airacobra acquired by the Soviets via U.S. Lend-Lease aid.
In July 1944, Brotherus was assigned to the Reconnaissance Squadron 16, where he spent the last weeks of the Continuation War flying the Finnish-designed VL Myrsky II fighter. After the war, he studied aeronautical engineering and completed his Master's degree at the Helsinki University of Technology. Brotherus worked for Valmet and Wärtsilä, initially as an aircraft engineer and later in leadership positions in the shipbuilding industry.
In active duty service and refresher exercises from 1941 to 1956, Brotherus flew with 22 different Air Force aircraft types, from Letov S218 A Smolik basic trainers to De Havilland D.H.115 Vampire Trainer jets. He was actively involved in the Pilvenveikot War Veteran Pilots' Association and in various events preserving the legacy of Finnish World War II pilots.
Captain Brotherus was the last surviving pilot who had served in the renowned Fighter Squadron 24. The squadron operated the Fokker D.XXI, Brewster B-239 and Messerschmitt Bf 109 G-2 fighters and, during World War II, it scored a total of 877 confirmed aerial victories against the Soviet Air Force, losing only 38 aircraft and 18 pilots. Eight pilots, who had served in the squadron during the war, were awarded the Mannerheim Cross - the most esteemed Finnish military decoration. Today, the heritage of the Fighter Squadron 24 is upheld by the Karelia Air Command's Fighter Squadron 31.
The Finnish Air Force will conduct the flypast honouring Johannes Brotherus on 3 December between 12:40 and 12:50 hours. Weather conditions permitting, an F/A-18 Hornet multi-role fighter will fly over the New Chapel of the Hietaniemi Cemetery in Helsinki at an altitude of 1,000 feet (approximately 300 metres).