Finnish Air Force to Participate in RED FLAG-Alaska 19-1 in October
The Finnish Air Force will participate for the first time in a Red Flag exercise held by the United States Air Force in Alaska from 4 to 19 October 2018. Finland will deploy six F/A-18 Hornet multirole fighters to the exercise. The Finnish detachment consisting of around 70 personnel at a time will operate at Eielson Air Force Base.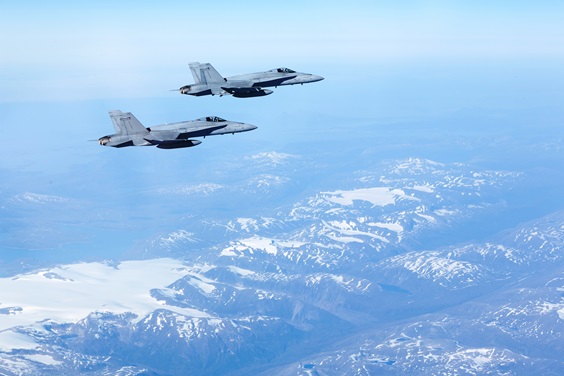 Red Flag exercises held in Alaska and Nevada are considered one of the most challenging air combat training exercises in the world. Large areas of training airspace in Alaska enable to train an air component's operation in its entirety in as realistic environment as possible. The exercise involves large-force combined air operations and air-to-ground, air-to-air, electronic warfare and air refuelling missions. In addition to fighters, participating aircraft include AWACS and jamming aircraft, tankers, simulated air defence systems and helicopters.
The adversary forces are made up of the U.S. Air Force's aggressor unit which emulates the aircraft and tactics of the technologically advanced opponent. The aggressor unit operates with F-16 Fighting Falcon fighters as well as jamming aircraft. The adversary also employs simulated air defence systems in the exercise.
In addition to RED FLAG-Alaska 19-1 (4 to 19 Oct 2018), the Finnish Air Force will participate in the Distant Frontier 1 and Distant Frontier 2 exercises held in Alaska before (24 Sept to 3 Oct 2018) and after (22 to 26 Oct 2018) Red Flag bilaterally with the U.S. Air Force. Participation in Red Flag will this autumn supersede the Ruska air exercise annually held by the Air Force. Ferry flights of aircraft and associated equipment and personnel are planned to start in September. A total of 110 airmen will be deployed to the exercise; at Eielson Air Force Base the strength of exercise personnel to be rotated at a time will be up to around 70.
RED FLAG-Alaska 19-1 will see, in addition to the Finnish F/A-18 Hornet multi-role fighters, United States Air Force F-16 Fighting Falcons, A-10 Thunderbolt II ground-attack aircraft, AWACS aircraft and tankers as well as United States Navy EA-18G Growler airborne electronic warfare attack aircraft, United States Marine Corps F/A-18D Hornet multi-role fighters and also Republic of Korea Air Force F-15K Slam Eagle multi-role fighters. Participating in Red Flag will bring valuable experience to the Finnish Air Force because the operations training environment in the exercise is without equal and it cannot be implemented in the homeland as such.
Preparations for Finland's deployment to Red Flag have been under way for a long time while for example the Swedish Air Force and Royal Norwegian Air Force have already taken part in it in earlier years. The first steps towards a RED FLAG-Alaska exercise were taken in 2008 through familiarisation with the exercise and surveying the basis for continued planning after which the Air Force has participated in the exercise as an observer on a number of occasions. A detailed planning of this autumn's exercise was started at the beginning of 2016.
Participation in a Red Flag exercise is included in the Defence Forces Exercise Plan 2018 that is based on the general outline of Finland's participation in international training and exercises provided by the President of the Republic and the Ministerial Committee on Foreign and Security Policy in December 2017.
Red Flag exercises have been arranged at Eielson Air Force Base and Joint Base Elmendorf-Richardson in Alaska since 2006. On an average, one hundred aircraft and 1,500 personnel take part in each RED FLAG-Alaska exercise. Nellis Air Force Base, Nevada, has hosted Red Flag exercises from the year 1975.