Midnight Hawks Continue Flying in New Composition
Rehearsals for the upcoming display season by the Finnish Air Force's official aerobatic team the Midnight Hawks are underway. The 2019 season's flying composition will feature two new pilots and a new leader promoted from amongst the previous year's demonstration team.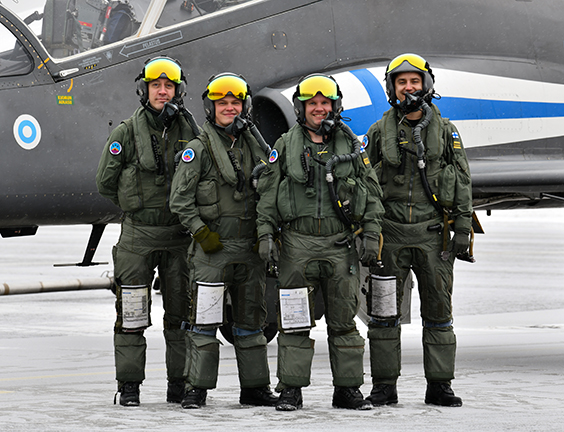 Comprised of flight instructors of Fighter Squadron 41 at the Air Force Academy, the Midnight Hawks are currently practising at Tikkakoski Air Base for the summer display season. Flying with four BAE Systems Hawk advanced jet trainers, the aerobatic team has been rehearsing since January.
For the 2019 season, the display team leader is Captain Vesa Loukko, piloting Midnight Hawk #1. The right wing #3 jet is flown by Captain Juho Tervahartiala who has moved up to the flying composition from the previous season's rookie position. Captain Tapani Parvio continues flying in the slot position #4.
The latest addition to the display team, Captain Eero Mannismäki, is now at the controls of the left wing #2. Captain Mannismäki has earlier flown Hawk solos for a couple of years and performed side by side with the Midnight Hawks in demonstrations such as the "Finnish Air Force 100 Years" Anniversary Air Show.
–I'm excited for the new season to start. Although I've flown solos with the team before, being one of the four display pilots is a welcome new challenge, Mannismäki says.
The previous composition's wingman Captain Heikki Kankkio has taken up the position of supervisor. His main tasks are to ensure flight safety and develop new display maneuvers and routines. The rookie position has been filled by Captain Oskari Tähtinen, who is getting to know how the team works and will be narrating the Midnight Hawks' maneuvers during air shows.
The team's senior engineering officer is Captain Kimmo Hantula, who oversees the maintenance of display and backup aircraft in collaboration with a team selected from Aircraft Maintenance Squadron 41.
The season's display routine will showcase maneuvers such as the descending Barrel Roll, Twist, Slow Pass, Trail Formation and, as expected, the Midnight Hawks' Signature Tight Diamond Formation. Copious amounts of aerobatic smoke will be used in the routine. The Midnight Hawks' Display Season 2019 will begin in May with the Utti Jaeger Regiment's Open Day on 9 May.
The team's aerobatics can also be viewed at the Air Force's Careers in Military Aviation events at Satakunta Air Command's Pirkkala Air Base on 14 May, the Air Force Academy in Tikkakoski on 28 May and Lapland Air Command in Rovaniemi on 22 August.
Moreover, the team will participate in other national and international air shows as detailed in the Finnish Air Force Display and Flypast Calendar.
–We're hoping for large crowds of spectators at every single event. Please come talk to us and ask any questions you may have, Loukko encourages.

Hornet Display Pilot of 2019 Season Captain Arto Ukskoski

Follow the Finnish Air Force on social media:

Follow Midnight Hawks on social media:
Instagram