Finnish Air Force to participate in Ramstein Alloy 22-1 with two F/A-18s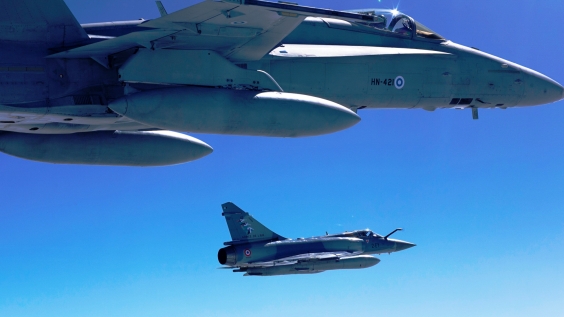 The Finnish Air Force will take part in the first Ramstein Alloy exercise of 2022 with two F/A-18 Hornet multi-role fighters on 11‒13 April 2022.
The objective of the Ramstein Alloy exercise series is to enhance the interoperability of NATO member and partner nations' Air Forces in the Baltic Sea region. The exercise takes place three times a year. The Finnish Air Force participates in the exercise series as a partner nation.
The training scenarios include tasks such as the identification, escort, and handover of escort duties of an aircraft suffering from communications loss (COMLOSS). In addition, the Ramstein Alloy exercise series provides an opportunity to fly Dissimilar Air Combat Training (DACT) with different types of fighters.
The Finnish F/A-18s will operate out of Rissala Air Base, Finland. The training missions will take place in the international airspace above the Baltic Sea, and in Finnish, Estonian, Latvian and Lithuanian airspace. The Baltic Air Policing detachments will participate in the exercise from Ämari Air Base in Estonia and Šiauliai Air Base in Lithuania.
The Ramstein Alloy exercise series is a part of the Defence Forces' international training and exercise plan, approved by the Finnish Ministry of Defence. The previous Ramstein Alloy exercise took place in September 2021.