Ruska 17: a Succesful Test of Finland's Air Defense
Ruska 17 Air Operations exercise, which took place in from 9 to 13 October, focused on all aspects of the air defense of Finland. In terms of the amount of troops participating Ruska 17 was the largest exercise of the Finnish Air Force in 2017. One of the training targets of Ruska was to test the use of the precision-guided air-to-ground weapons of the Finnish Air Force F/A-18 Hornet multi-role fighter fleet as a part of the operations of the Finnish Defence Forces.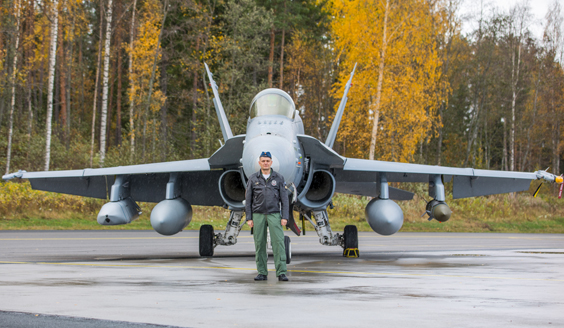 Chief of Staff of the Finnish Air Force, Brigadier General Jari Mikkonen and a F/A-18 Hornet multi-role fighter equipped with air-to-ground precision-guided weapons at Rissala Air Base during Ruska 17 exercise.
"Ruska 17 was successful in testing our capability to fight a battle as an air force, says Brigadier General, Jari Mikkonen, the Chief of Staff of the Finnish Air Force. " In this year's exercise we were able to train the whole chain of functions required for the execution of air operations in an efficient and safe manner.  Air base operations, Command and Control, surveillance, operational command and flight operations are all functions that one needs to master."
"During the exercise week we carried out successful large-scale air operations that included the use of our air-to-ground capabilities. An exercise that puts the performance and capabilities of all types of Air Force war time units into a test is vital to the air defense of Finland.
The main goal of Ruska exercises that have been organized annually is to train Finnish Defence Forces personnel, conscripts and reservists in their tasks in all functions of the war time air defence of Finland.
During Ruska 17 Finnish Defence Forces personnel, reservists and conscripts were trained to plan an conduct operations including the usa of the F/A-18 air-to-ground precision-guided weapons.
"Well-trained troops are key elements in our capability to fulfil our mission, BGen Mikkonen says. "Ruska 17 was an excellent opportunity to train our personnel, reservists and conscripts. A motivated reserve force that knows its duties well ensures the continuity of our operations and brings flexibility and resilience. Judging by what I saw during Ruska 17 and the feedback I've received, our reserve is meets these standards well.
A Test of Finnish-Swedish Cooperation
Finnish-Swedish air force cooperation has a long history and in the recent years it has intensified. In 2016 Finland's and Sweden's combat aircraft took part in each other's Ruska 16 and Flygvapenövning 16 exercises.
In Ruska 17, the Swedish air force took part in the exercise with flying units carrying out both air defense tasks of Finland in the and acting as the adversary of the defenders. Earlier this fall, Finnish Air Force F/A-18s were also seen in a similar role in Sweden's Aurora 17 exercise.
In Ruska 17, a significant milestone was achieved as the Swedish Air Force Gripen multi-role fighters were integrated in the air defense system of Finland performing their missions together with the Finnish F/A-18 multirole fighters showing significant interoperability. The air forces train together in the context of the Finnish-Swedish Defense Cooperation (FISE) that the governments of Finland and Sweden have agreed to pursue.
This ensures that the air force cooperation can deepen further in the future.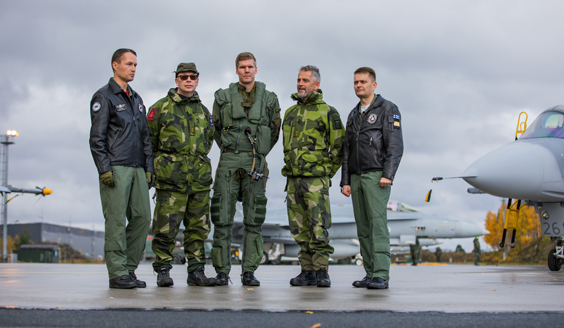 Ruska 17 Air Operations Exercise proved that the procedures and systems of the Finnish and Swedish Air Force are interoperable
"Swedish Air Force took part in Ruska as a part of both the defensive Blue force and their adversary", Bgen Jari Mikkonen says. "In this week's exercise, the FISE defense cooperation was realized in our ability to conduct air operations together. We showed that both our procedures and our systems are interoperable enabling us to deepen our cooperation further. By taking part in each other's exercises we make more extensive and versatile air operations possible and also develop our capabilities."
The decision on Ruska 17 and its execution schedule was made over a year ago which also marked the start for the exercise planning.
Preparations for Ruska 17 also included one preparatory exercise: During week 40 in early October Finnish and Swedish aircraft participating in Ruska took part in Baana 17 air exercise that focused on flying operations to and from a temporary road base in Vieremä, Eastern Finland.
Late in the week preceding Ruska live exercise stage was also the time when most of the troops required for the event were called for service and equipped for their mission. A total of 5,100 personnel took part in Ruska 17 with 2,900 reservists included in the number.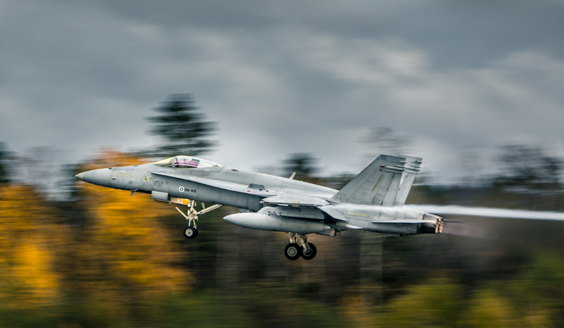 During Ruska 17 Finnish F/A-18s and Swedish Gripens operated from several temporary war time air bases, including Vieremä road base in Eastern Finland.
According to BGen Mikkonen, the Ruska 17 exercise planning, preparatory actions and the live exercise stage were conducted successfully.
"The Red force provided the Blue forces with an adversary that showed variety in its actions and the difficulty level of the training was gradually raised during the exercise. The Blue force showed skills and capability of the Finnish air defense that is sure to have a pre-emptive effect on military crises."
The flight operation of Ruska 17 ended in the afternoon of October 13. Before concluding the exercise, the temporary air base functions established will be removed and the reservists will return to their civilian duties.
"After the exercise I'm looking forward to receiving feedback and suggestions for the development of the exercise concept", Brigadier General Mikkonen says. "I want to take this opportunity to thank the troops participating in the exercise for excellent performance. I'd also like to thank the residents of the area of operations for understanding as the jet noise caused by a large-scale exercise such as Ruska can be quite high at times".