Talvinorva 21 to bring F/A-18s to Norvatie in Rovaniemi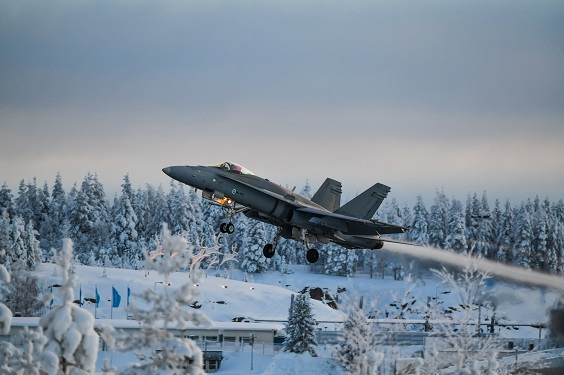 Lapland Air Command will conduct the Talvinorva 21 exercise in Rovaniemi from 24 to 25 February 2021. During the exercise, road 9523 (Norvatie) will be closed to traffic and used as a launch strip for F/A-18 Hornet multi-role fighters.
Readiness to use temporary operating bases as well as alternate launch strips and taxiways around the year is a part of the Finnish Air Force's mobile battle concept. Alternate launch strips, such as Norvatie in Rovaniemi, enhance the mobility and dispersal of assets within an air base.
‒ In Talvinorva 21, we will train base operations and take-offs outside the aircraft stands and runways we use daily. Norvatie provides us with an excellent opportunity to do so as a part of our normal flight operations. Year-round readiness to disperse our assets requires training in winter conditions, says Exercise Director and Commander of Lapland Air Command, Colonel Tuukka Karjalainen.
Road closure and traffic arrangements
Road 9523 (Norvatie) will be closed to traffic at the highway strip on Tuesday 23 February 2021 at 9 pm. The road will be reopened no later than on Thursday 25 February 2021 at 4 pm.
Traffic will be rerouted during the road closure, and there will be guidance on location. The detour will add approximately 5–10 minutes to the driving time. If you have to use the detour with a vehicle more than four metres high, please contact Rovaniemi air traffic control.
Residents will be able to access their property by road 9523 normally, only the highway strip will be completely closed to traffic. However, ambulances, police cars and fire trucks on an emergency call can be allowed to drive through the exercise area.