United States Air National Guard Flight Detachment to Pay Visit to Karelia Air Command
The flight detachment of the United States Oregon Air National Guard will pay a squadron-level visit to Karelia Air Command at Rissala air base from 9 to 20 May.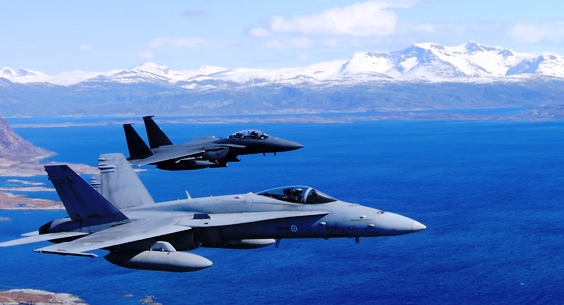 The Oregon Air National Guard (Oregon ANG) detachment will consist of six Boeing F-15 fighters from the 173rd Fighter Wing supported by a Boeing KC-135 tanker from the 141st Air Refueling Wing. The overall strength of the visiting unit will be around 150 persons.
The squadron-level visit is one element of the Finnish Air Force's international operations comprising such as participation in combined air exercises and other international events. The Finnish Air Force (FINAF) has had multifaceted cooperation with the US Armed Forces since the commencement of the Hornet multi-role fighter procurement programme in the 1990s. The first squadron-level visit of F-15 fighters to Finland took place in 1997 when the US Air Force 48th Fighter Wing was deployed to Pirkkala air base.
During the visit hosted by the Fighter Squadron 31 of Karelia Air Command aircraft including Oregon ANG's F-15 fighters and eight FINAF's Hornet multi-role fighters will conduct waves with the focus on air combat training. In addition, air refuelling training is incorporated with some of the waves.
During this squadron-level visit F-15 aircraft will take part also in Cross Border Training (CBT) conducted with the Finnish and Swedish Air Forces.
For further information, contact Chief of Staff of Karelia Air Command Lieutenant Colonel Joni Mahonen, tel. +358 299 800 (operator)