Joint Expeditionary Force Training Event at Rovaniemi Air Base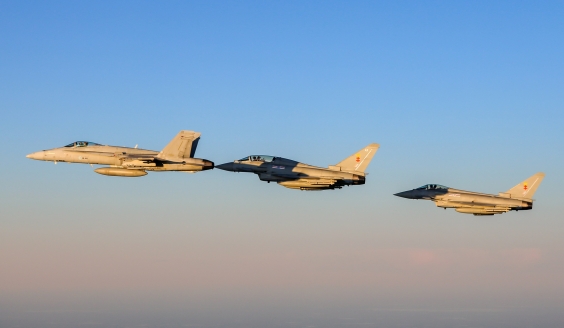 Lapland Air Command will host a visit of Royal Air Force Eurofighter Typhoons at Rovaniemi Air Base on 6‒17 June 2022.
The Royal Air Force detachment deploying to Finland will consist of four Eurofighter Typhoons and around 70 personnel. The training event will be part of the UK-led Joint Expeditionary Force (JEF) cooperation. Finland joined the JEF in 2017.
‒ The aim of the JEF training event hosted by Lapland Air Command is to strengthen the cooperation and interoperability of the Finnish Air Force and the Royal Air Force in the High North. The event will include also Cross Border Training missions with the Swedish Air Force, says Lieutenant Colonel Markku Vihersalo, Commander of Fighter Squadron 11, Lapland Air Command.
The Eurofighter Typhoons operating out of Rovaniemi Air Base will participate in the Finnish Air Force's daily flight training activity together with the F/A-18 Hornets of the Lapland and Karelia Air Commands. The air operations will be carried out in an area bordering on Rovaniemi, Kuusamo, Joensuu, Kuopio, Jyväskylä and Oulu from 6 to 17 June 2022 on weekdays between 8 am and 5 pm.
The JEF training event is part of the Finnish Defence Forces' enhanced training and exercise activity with partners, approved by the Minister of Defence Antti Kaikkonen on 27 May 2022. The objective of the enhanced cooperation is to strengthen Finland's defence capability and to demonstrate partner nations' support to Finland.