Captain Lauri Mäkinen is the Air Force's Hornet display pilot in the centennial year 2018
His skilful and exhilarating Hornet solo flight is among the gems of the air show programme. This year's Hornet display pilot is Captain Lauri Mäkinen of Karelia Air Command. Acting as his deputy is Captain Arto Ukskoski of Lapland Air Command.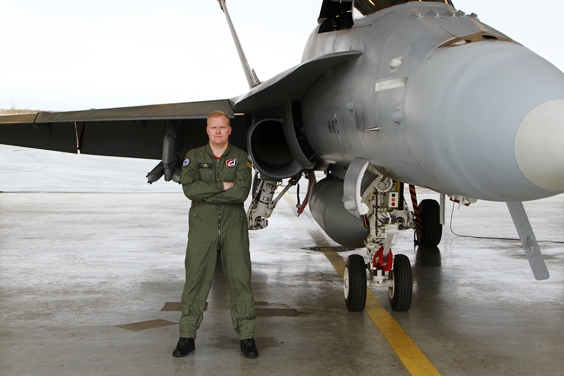 Captain Lauri Mäkinen of the Finnish Air Force (FINAF) serves in Fighter Squadron 31 of Karelia Air Command as 2nd Flight Commander and instructor pilot. The 35-year-old Pirkkala native began his military career at the former Training Air Wing in Kauhava. Prior to his military service, aviation was not his main interest, as he had designs to become a professional ice hockey player. Although his grandfather had been a civilian pilot and an aerial photographer, Mäkinen only began to contemplate a career in military aviation in the context of his conscription.
"Someone suggested to me that I should apply to elementary flight training in Kauhava. While on the course, I was duly bitten by the flying bug, and the rest is history."
In 2008 he began serving at Satakunta Air Command, close to home. Some four years ago, a transfer took him to Rissala where he remains stationed. For him to become a Hornet display pilot was a coincidence.
"Inquiries were made to our age group of pilots regarding the willingness to do it, and naturally I volunteered. When they eventually chose me, I was eager to get on board."
Last year Mäkinen acted as deputy for the 2017 Hornet display pilot, Captain Tapio Yli-Nisula. The role provided him with a good foundation for familiarising with the display pilot's job in depth; a most useful opportunity, in view of the considerable differences between display flying and normal flying.
"It is an art form in its own right: you push your Hornet to the extreme and approach the very limits of its capability whilst flying at low altitude."
For Mäkinen, the anniversary year is paced by a number of aviation events around Finland. The next opportunity to see the pilot showcase his skills will be at the Sotilasilmailusta ammatti (Careers in Military Aviation) event at Satakunta Air Command in Pirkkala on 15 May. He will also thrill international crowds with his deft display, for example at the Royal International Air Tattoo taking place in the UK between 14 and 16 July.
His Hornet solo flight features 17 manoeuvres with a focus on spectator experience – the idea is to get close to the audience whilst making the moves. Planning his own solo performance is a most fascinating proposition for Mäkinen.
"Within certain constraints, you can make your solo flight to be exactly what you want, also as a means of self-fulfilment."
The pilot – who's very much at home in the sky – particularly enjoys steep flight paths.
"The flight manoeuvres I enjoy the most are those where the aircraft's nose is pointing either straight up or straight down. That is when you feel alive."
2018 marks out another milestone for Mäkinen: it was exactly ten years ago in early April when he took to the skies in a Hornet for the first time. Mäkinen embraces FINAF's centenary year with delight.
"The fact that we're celebrating the service's centennial gives this display season a little extra boost, the highlight obviously being the 100th anniversary air show. I do hope a good turnout for it, as you always enjoy flying that much more before a large crowd," Mäkinen concludes.