United States Marine Corps F/A-18s to visit Karelia Air Command in June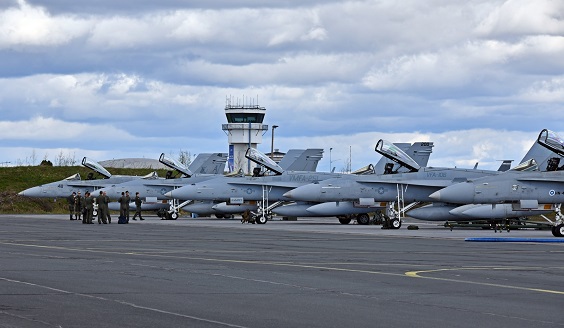 Karelia Air Command will host a squadron-level visit of United States Marine Corps (USMC) F/A-18 Hornet multi-role fighters and KC-130 tanker and transport aircraft at Rissala Air Base from 2 to 20 June 2021.
The visiting detachment consists of ten F/A-18 Hornet multi-role fighters from Marine Fighter Attack Squadron 115 (VMFA-115) accompanied by 1‒2 KC-130 tanker and transport aircraft from Marine Aerial Refueler Transport Squadron 452 (VMGR-452). VMFA-115 is based at Marine Corps Air Station Beaufort (MCAS Beaufort), South Carolina, and VMGR-452 operates from Stewart Air National Guard Base (Stewart ANGB), New York. The total strength of the detachment arriving in Finland is around 250 Marines.
The USMC detachment was originally scheduled to participate in the Arctic Challenge Exercise 21 (ACE 21) at Rovaniemi Air Base. Organised every second year by the Finnish, Swedish and Norwegian Air Forces, ACE is one of the largest live air exercises in Europe. In 2021, the exercise will be led by the Royal Norwegian Air Force. Due to the COVID-19 pandemic, the exercise will be conducted with precautionary measures that limit the number of participants at Rovaniemi, Bodø and Luleå Air Bases. ACE 21 will take place in June, a more detailed press release will be published closer to the beginning of the exercise.
The squadron-level visit is part of the bilateral defence cooperation between Finland and the United States. The Finnish Air Force has had wide-ranging cooperation with the United States Navy and Marine Corps since the procurement of F/A-18 Hornet multi-role fighters which were initially designed for operation from aircraft carriers. The cooperation between the Finnish Air Force and USMC includes, for example, reciprocal exchange of F/A-18 flight instructors. The previous time USMC F/A-18s visited Finland was in May-June 2019 when the aircraft took part in the Bold Quest 19.1 and ACE 19 exercises.
During the upcoming visit hosted by Karelia Air Command's Fighter Squadron 31, Finnish and USMC F/A-18s will fly training missions with the focus on air combat training. In addition, some waves will include air-to-air refuelling training. The Finnish Air Force will participate in the training missions with ten F/A-18s and four Hawk jet trainers. The squadron-level visit provides an opportunity to enhance fighter tactics and interoperability, as well as to share best practices with another F/A-18 squadron.
Due to the squadron-level visit, daily flight operations will be more intensive than usual in the training areas used by Karelia Air Command on weekdays from 2 to 18 June 2021 between 8 am and 5 pm. Training missions will mostly take place within a distance of 200 kilometres from Rissala Air Base. In addition, some of the waves will be flown with Lapland Air Command's F/A-18s in the area between Kajaani and Rovaniemi. During the training missions, F/A-18s will deploy countermeasures such as flares and chaff. Flares may be seen as momentary bright spots of light in the sky, and chaff may cause echoes on weather radar.
USMC equipment and personnel will arrive in Finland in phases from mid-May, with the main unit arriving at Rissala Air Base during the last week of May. As a COVID-19 precaution, the Marines will be quarantined prior to their arrival in Finland, and they will be administered COVID-19 tests both in the country of departure and in Finland.
The personnel involved in flight operations will be divided into smaller groups, and physical interaction between the groups will be minimised in line with COVID-19 safety measures. Conscripts serving at Karelia Air Command will participate in hosting the visit by performing their daily duties at Rissala Air Base. Reservists will not be involved in the squadron-level visit.