The Status of the F-35 Programme
The Finnish Defence Forces are experiencing a time of great changes. Finland gaining NATO membership in April has been the main story, but much more is going on. The Commander of the Air Force, Major General Juha-Pekka Keränen, tells us what is currently happening in the F-35 Programme.
After the procurement decision made in December 2021 and the first contracts signed in February 2022, the F-35 Programme has seemed to be fairly quiet from an outsider's perspective, but underneath things are happening. Work is carried out both in Finland and in the United States, and the integration of the joint capability of the Defence Forces – Joint Fighter – has progressed to the performance-building stage.
The F-35 Programme is being prepared by a separate body, but the results of the programme will be visible in a defence-oriented manner. An F-35 Programme organisation has been established in the Air Force, but otherwise the defence administration's rules of procedure have remained the same for the programme, being largely the same as in the HX Programme during the evaluation of the fighter candidates.
– Generally speaking, the implementation of the F-35 Programme is progressing as planned. In practice, we have continued with the same division of labour as during the evaluation of the HX Programme's fighter candidates. The Air Force Command directs the integration of the F-35 capability. This means that the Air Force Command directs the building and achievement of capability. In other words, their task is to make sure that the framework required for the operation of the F-35 is completed and the combat-efficiency is achieved on time, says the Commander of the Air Force, Major General Juha-Pekka Keränen.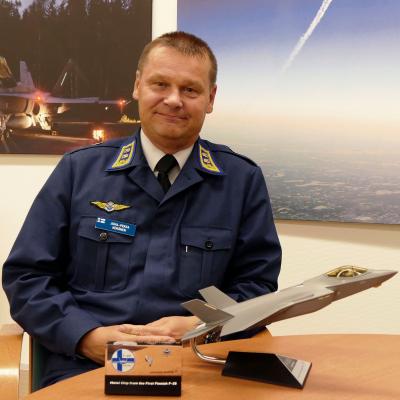 The Ministry of Defence is responsible for industrial cooperation as a whole. Industrial cooperation agreements are built under the direction of the ministry. The ministry negotiates and supervises the whole in such a way that the 30 per cent share of the total value of the procurement set as a requirement for the value of industrial cooperation during the tendering phase of the programme is realised.
According to Keränen, keeping to the schedule is crucial to the F-35 Programme.
– It is important to ensure that we keep to the planned schedule. That all parties of the programme, including the partners, adhere to the planned and agreed schedule and that the contracts on the content of the tenders will keep to what has been promised to us. In this transitional phase, it is important for us to plan and prepare for operational use as much as possible in advance.