Introducing Air Force Hornet Display Pilot Captain Jukka Asmundela
Karelia Air Command Captain Jukka Asmundela flies the Air Force Hornet solo display in the 2020 season. This year's air show pushes the Hornet's flying capabilities to the extreme.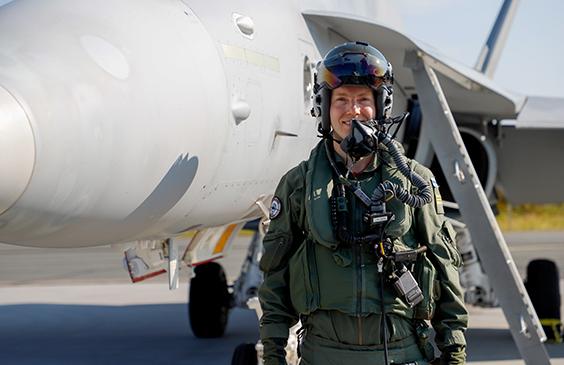 The Air Force Hornet multirole fighter solo demonstrates the Hornet's capabilities and the expertise of the Air Force pilots. The display season, shortened by the coronavirus pandemic, will feature the Air Force Hornet solo sequence for the first time at the main air show of the Finnish Aeronautical Association in Kauhava. The main display pilot Captain Jukka Asmundela's backup is Captain Anssi Nieminen of Lapland Air Command.
Captain Jussi Asmundela sheds light on being a fighter pilot, gearing up for display flying and the F/A-18 Hornet solo he has developed.
How did you end up in the Air Force and become a fighter pilot?
Flying has fascinated me ever since I was a child because, for a small human being, there's something in it that's hard to understand. Striving towards goals and all things fast have always captured my interest too, and then I became accepted to the conscript pilot course, which felt like the right place for me. What I didn't know beforehand was how lucky I had been to have been selected into such a fantastic group of people. Along the years, I have learned to appreciate this tight-knit jovial community working hard for a common goal.
What are your daily duties as a flight instructor and flight commander like?
My main duty is to teach air combat with both the single-seat and two-seat Hornet and Hornet simulator. I'm in charge of the flight training at Fighter Squadron 31, which means quality control of learning and teaching, for example. I also contribute to the continuous development of the Hornet training programme that takes into account new capabilities and threat environments among other things. The youngest Hornet trainees are my subordinates so I guide and supervise their work as well. I only really need to point these motivated and talented young people to the right direction and they're already on their way there.
What do you think about flying a Hornet? What kind of plane is it?
The Hornet is an amazing fighter aircraft that is - sorry to burst your bubble - easy to fly. It is highly capable from many aspects, of which display flying brings forth the outstanding manoeuvrability, especially at low speed. Although flying the aircraft has been made easy, building and maintaining situational awareness in complex air combat makes operating a fighter challenging. In terms of flying a fighter, it's the spice of life.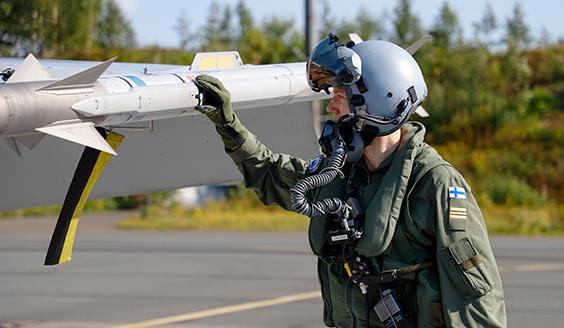 How would you describe this year's Hornet solo?
When I was planning the solo for this year, I wanted to showcase the extreme range of the Hornet's flying capabilities, and thus the sequence will feature both low and high speed manoeuvres. I also cut the sequence from last year a bit, making it even more dynamic - I hope. And I added a few tricks to be seen in Kauhava to delight the spectators and photographers alike.
How do you prepare for displays?
I start with reviewing the display routine and notes from the previous shows. Then I fly the sequence with a simulator for the designated airfield a couple of times. If the weather forecast is available, I use it in the simulator settings. Ahead of the display, I check the weather, especially clouds and wind at different altitudes. Before changing into my flying gear, I also go through the sequence, or possible sequences, as mental images with the help of a model plane and warm up thoroughly for a tough ride.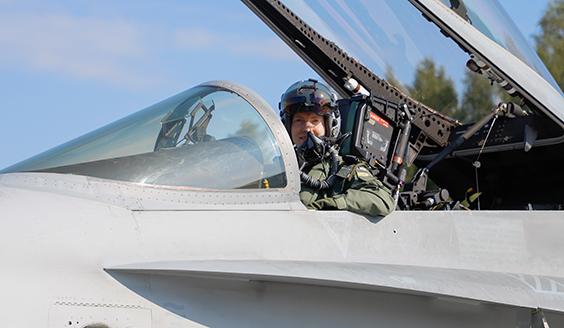 What kind of flying do you like?
I really like low speed, or in other words high angle of attack, manoeuvres that we have used in dogfights to surprise many exercise opponents who fly with dissimilar aircraft.
What else would you want to share about the Hornet solo, flying in general or display flying?
Although display flying is a highly visible part of the Air Force's activities, it and the overall capabilities of the Air Force are made possible by all the behind-the-scenes work done by top-notch professionals. For example, the Air Force's qualified aircraft maintenance personnel have managed to keep the aircraft in excellent shape all these years. Flying a plane you can trust is an utter joy.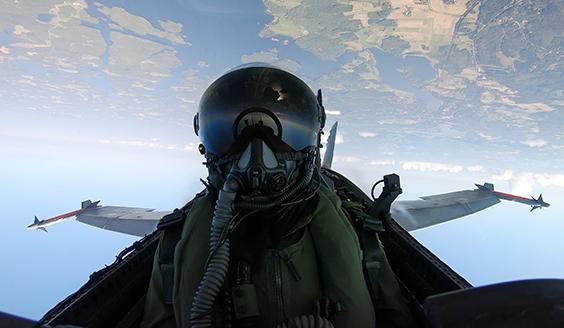 The Finnish Air Force on social media