Air Force to Conduct Combined Missions with French, German, and Swedish Assets
From mid-November, the Finnish air force is set to fly combined air combat training missions with Swedish air force aircraft and assets of Baltic-based French and German detachments. The weekly missions are scheduled to continue for the remainder of the year.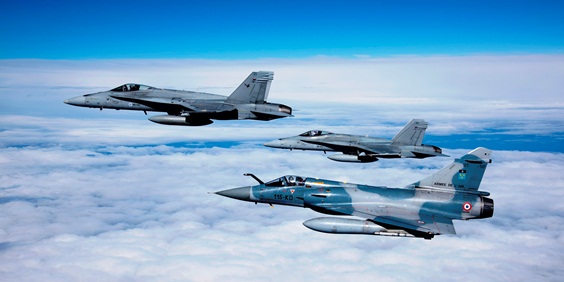 The mission objectives are to offer opportunities for dissimilar aircraft combat training and improve the participating airmen's skills for working in a multinational environment.
The missions will be conducted in the airspace of Finland and Sweden and in international airspace. Participating multirole fighters include German Eurofighters and French Mirage 2000s based in the Baltic states, along with Gripens of the Swedish air force. The Finnish air force will send up from two to four Hornet multirole fighters or Hawk trainers on each mission. Participating aircraft will operate from air bases in Finland, Sweden, and the Baltic states.
Flare countermeasures deployed by exercise aircraft may be seen as bright spots of light in the sky.
The missions will be flown between October 17 and December 31. Flying will take place on working days between 10 a.m. and 8 p.m. Most flying in Finnish airspace will be within training areas between Tampere, Jyväskylä, Oulu, Kokkola, and Seinäjoki.
The Finnish air force had conducted combined missions with Baltic-based assets since 2015. Earlier this year, the service has flown training missions with Baltic-based Eurofighters of Britain's Royal Air Force and Eagle multirole jets of the United States Air Forces in Europe.
Additionally, the Finnish air force has for several years participated in weekly cross border training with the Norwegian and Swedish air forces, following the same procedures and involving identical objectives as those in place for combined training with the Baltic-based detachments.