Finnish Air Force to participate in Sweden's Flygvapenövning 19
The Finnish Air Force will take part in the Swedish Air Force Flygvapenövning 19 (FVÖ19) air operations exercise from 22 to 27 March with 8-12 F/A-18 Hornet multi-role fighters.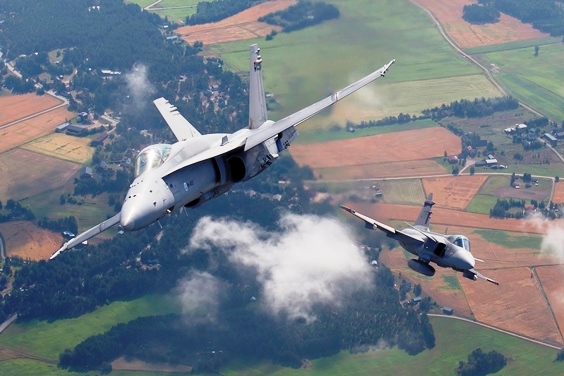 Flygvapenövning is the Swedish Air Force's annual air exercise focused on training air defence personnel for their national defence tasks. Exercise missions are flown on a 24/7 basis, mainly in the airspace of northern Sweden. Air operations of FVÖ19 will also be conducted in the Finnish airspace above western Lapland.
The Finnish Air Force will deploy 8-12 F/A-18s and circa 180 airmen to FVÖ19. In addition, three NH90 transport helicopters and approximately 30 troops from the Finnish Army will take part in the exercise. In total, FVÖ19 will involve approximately 2,500 personnel. The Finnish F/A-18s will fly in both the defending Blue and the adversary Red forces of the exercise with 4-6 aircraft in each.
The Blue force will operate from Kallax and other air bases in northern Sweden. Participating Finnish Army helicopters will also be based at Kallax. The adversary Red force will operate from Rovaniemi Air Base in Finland. In addition to the Finnish fighters, Rovaniemi will host eight Swedish Air Force Gripen C/D multi-role fighters and 2-3 Saab SFO-operated Learjets specialized in electronic warfare.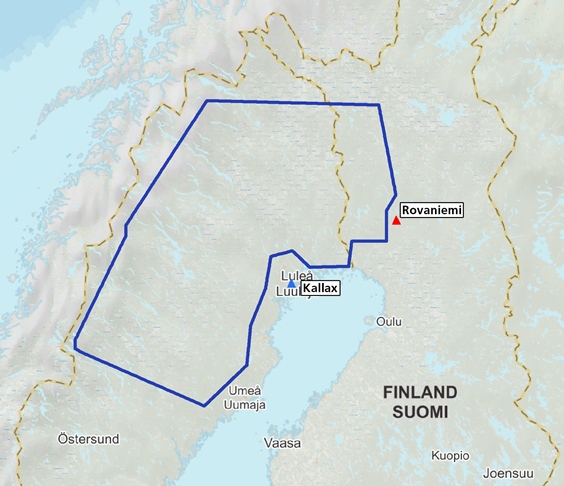 Lapland Air Command conscripts serving at Rovaniemi Air Base will participate in FVÖ19 as part of their normal aircraft maintenance duties, fuel distribution and military police tasks. Moreover, approximately 20 conscripts serving as trainee aircraft technicians will join the Finnish Air Force detachment deploying to Kallax Air Base in Sweden.
Since 2016, the Finnish and Swedish Air Forces have participated in each other's main air exercises focused on national defence as a part of the bilateral FISE defence cooperation between the two Nordic nations. In May 2018, the Finnish Air Force took part in FVÖ18 with eight F/A-18s, operating in both the defending Blue and the adversary Red forces, side by side with Swedish aircraft. In October 2017, Swedish Air Force Gripens participated in the Finnish air exercise Ruska 17 in a similar role.
The Swedish Army will organize the Northern Wind 19 exercise in northern Sweden simultaneously with FVÖ19. The Finnish Army will deploy more than 1,500 troops and circa 500 vehicles to the exercise. In total, Northern Wind 19 will involve approximately 10,000 personnel from Sweden, Finland, Norway, the United States and the United Kingdom.