Ruska 2016 in October Set to Be This Year's Major Live Air Exercise
The Finnish Air Force's Ruska 2016 Exercise is set to take place on October 10 to 14. Exercise assets will include over 50 aircraft and approximately 2,600 personnel. The Swedish Air Force will also deploy aircraft for the event. They will cooperate with Finnish Hornets on target emulation sorties in support of the exercise objective.
Ruska 2016 ("fall colors") is the biggest tactical exercise of the Finnish Air Force in 2016. Its objective is to train the components of Finland's air defense system in complex operational scenarios.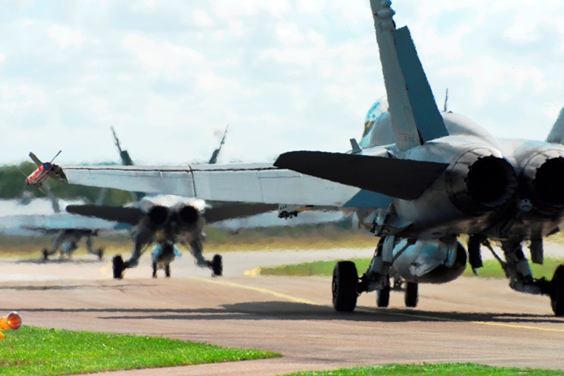 Exercise personnel will consist of 2,600 active duty members, conscripts, and reservists of the Finnish Defence Forces. Flying assets will be approximately 30 Hornet multirole fighters, 15 Hawk jet trainers and a number of light and medium transports of the Air Force. These will be supported by NH90 helicopters from the Army Aviation.
Six Gripen multirole fighters, transports, and command and control aircraft of the Swedish Air Force will cooperate with the Finnish assets. Together with Hornets, they will play the role of red air to emulate opponents to the Finnish exercise units.
Ruska 2016 is the first major homeland defense air exercise that sees participation by the Swedish Air Force. In early September, Finnish aircraft played adversaries during the Swedish Air Force's Flygvapenövning 16 (FVÖ) exercise.
Ruska 2016 air assets will be deployed to the Finnish main operating bases at Tikkakoski and Rovaniemi, and to remote bases established at the airports of Oulunsalo, Kajaani, Kuusamo, and Kokkola-Pietarsaari. In addition to these operating locations, transport aircraft are scheduled to operate from a secondary airfield at Kalajoki.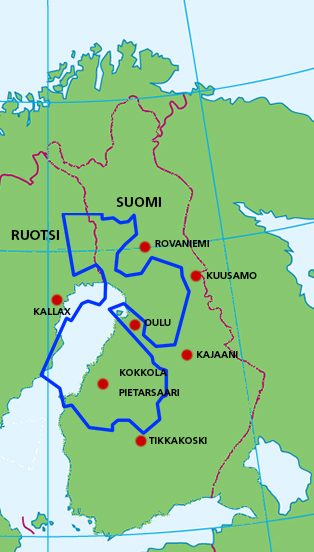 Ruska 2016 bases and areas of operation.
A combined red detachment of Hornets and Gripens will fly out of the Kallax air base located in the vicinity of Luleå on the Swedish coast.
Finnish ground-based air defence units will be deployed to the Lohtaja firing range for the exercise. Ground troops will conduct training in the surrounding areas of the exercise air bases, moving on foot and on vehicles.
Exercise flying will take place around the clock within an area bounded by the towns of Jyväskylä, Kuopio, Kajaani, Kuusamo, Rovaniemi, Vaasa, and Seinäjoki. Exercise missions will also extend into airspace over the Gulf of Bothnia and the Finnish-Swedish cross border training areas to the west of Rovaniemi.
Flare countermeasures deployed by exercise aircraft may be seen as bright spots of light in the sky. Sorties may also involve low level flying and supersonic flying, which will be heard as sonic booms on the ground.